FileMaker Manual for Novices – Learn The FileMaker Platform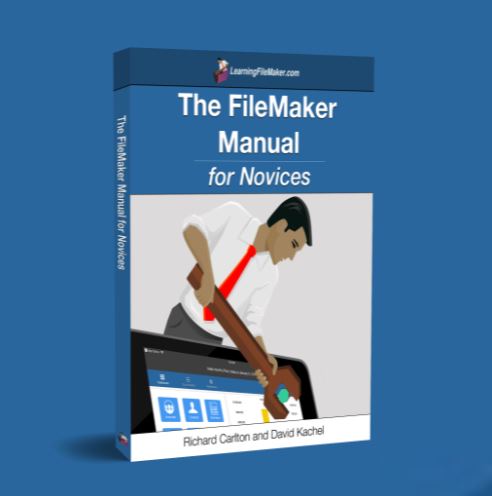 FileMaker Manual for Novices – Learn The FileMaker Platform 
If you're looking for more information about the FileMaker platform, you've come to the right place. The FileMaker platform is by far the most popular tool worldwide for creating custom applications to solve business challenges.
FileMaker is used by both small and large businesses, even non-profit organizations, educational institutions leverage the FileMaker platform to build custom apps to save time, save money and to automate processes within these organizations.
Hi, my name is Richard Carlton. My team and I work hard to create FileMaker video courses that help you learn all the ins and outs of this platform. In addition to the videos, we've also started publishing books to help supplement your learning. Of course, each person's needs are a little bit different so you have a wide variety of tools to help you learn how to make this platform work for you. The FileMaker platform is definitely awesome but out of the box most people find it's a little overwhelming.
So with a little assistance, either video training or maybe with a book you can lay the groundwork towards being successful and rolling out a custom application that will really help your organization. The FileMaker manual for novices is designed for people who've been exposed to FileMaker several months of playing with FileMaker or maybe it's your first week or two and you've been diving in, but you have some basic understanding of how it kind of works. Well, it's designed to take a novice user and extend your understanding of the FileMaker platform leading you towards success.
The FileMaker Manual for Novices is really a book and it can stand on its own but it's even better if you use it with a copy of our FileMaker pro video training course. So to make sure that everyone has access to that course, we offer half-off coupon inside the book.
Now my team and I have worked really hard to make sure we answer all the critical issues you're going to run into as you start to build FileMaker applications. A lot of it has to do with planning and trying to come up with a relational design and understanding relationships. And not only that, but understanding maybe the right way of designing the relational graph.
There are tons of tips and tricks that we share with you in this book and frequently during the book we'll get into a conversation and we'll say for more information check out video number xyz and we send you off to go watch that video on your computer. So part of the time you'll be watching a video then part of the time you'll be reading a book
So welcome to the FileMaker platform. I look forward to hearing about how you've been successful in leveraging a custom app to solve your business challenges.
FileMaker coaching is the opportunity to master your FileMaker skills while developing your own customized application. Coaching is done in a LIVE environment, where you and a coach share a screen over the Internet to work on your app. Projects consist of learning basic to intermediate skills, such as designing layout, understanding relationships, writing scripts, and optimizing for mobile deployment. Reach out to us today to have an RCC FileMaker Engineer get in touch with you on how to take your solution beyond your current skill set.
RCC is a consultancy focused on the training and development of custom apps, using the FileMaker Platform. RCC was started is 1990 and has been steadily growing over the years. In 2016 RCC developed a coaching program.
The coaching program is designed to be a highly discounted program that empowers you to develop your own solutions or customize FM Starting Point. This allows you to custom-tailor your coaching experience and apply real-time fixes to your solution.
Coaching sessions are conducted remotely. The software we use allows our coach to remote into your computer to "share the screen," or if you prefer, you can remote into the coach's screen and see things on their end.
The training is limited to design and development of FM Starting Point, or similar databases. Training on advanced topics like PHP, Server Support, connection to Quickbooks, etc, is not available under this program.
Richard provides live stream Twitch broadcasts for general Q&A on the FileMaker Platform. You can check the schedule here: FMtraining.TV
If you are interested in the coaching program we would be happy to offer you a free initial consult to discuss your project or demo how the coaching works. To contact RCC, e-mail: support@rcconsulting.com
"The main goals of the training is to not only teach you about FileMaker Pro, but also teach you the skills to keep yourself out of trouble. I tried to keep the training entertaining, NOT boring. I also made sure to pass on some of the hard lessons I have learned over the years in my consulting business. I hope you can learn from the mistakes that I have made.