After Revenue Pops 101%, Why Is SoFi Stock 44% Below Its High?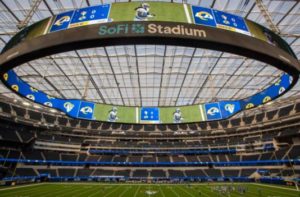 SoFi Technologies (SoFi) — a San Francisco-based fintech in which I own shares — has lost 44% of its market value since it peaked in February.
Sadly, its shares fell almost 10% in August 13 pre-market trade after SoFi reported its first earnings as a public company on August 12.
CEO Anthony Noto expressed optimism in a statement. As he said, "We exceeded our financial expectations, delivering record adjusted quarterly net revenue and our fourth consecutive quarter of positive adjusted EBITDA…We accomplished all of this by focusing on our members and our mission to provide them with the right financial products, services, and advice for every major financial decision in their lives and every day in between."
Is it time to throw in the towel on SoFi stock or to use this dip as a buying opportunity? I am continuing to hold the stock because it appears to me that the company is investing for rapid growth — which will pay off in the future.
SoFi's Mixed Second Quarter Earnings Report
SoFi is a financial services company that was initially known for its student loan refinancing business. SoFi has since added new products including personal loans, credit cards, mortgages, investment accounts, banking services, and financial planning. Through its 2020 acquisition of Galileo. SoFi also provides payment and account services for debit cards and digital banking.
SoFi stock peaked in February 2021 at $28.26, according to CNBC, soon after its merger was announced with Social Capital Hedosophia Corp V — one of several Special Purpose Acquisition Companies (SPACs) taken public by Chamath Palihapitiya, a venture capitalist and early Facebook employee.
After the market closed on August 12, SoFi stock fell after its first earnings report as a public company. According to MarketWatch, this drop reflects a disappointing profit outlook.
SoFi's second quarter results significantly exceeded top line growth expectations and fell short on profit estimates. Revenue rose 101% to $231.3 million — 6% more than analysts expected, according to FactSet. Sadly its net loss of 48 cents a share — far exceeded the loss of 6 cents that FactSet had forecast.
SoFi's membership base and total products both expanded very rapidly. Its member base grew 117% to 2.6 million while total products rose 131% to 3.7 million.
SoFi's business lines generated considerable growth. Net revenue in its lending business was up 135% to $166.3 million and its financial services segment enjoyed 608% revenue growth to $17 million.
Sadly, the latter incurred high expenses of about $42 million leading to a contribution loss of $24.7 million, according to MarketWatch.
Financial Technologies enjoyed rapid growth. Its accounts grew 119% to 78.9 million accounts while revenue was up 138% to $45.3 million
SoFi noted that "it has engaged in heavy investments to migrate the technology operations to the cloud, expand geographically, and nearly double headcount for this part of the business," according to MarketWatch.
SoFi Is Growing Faster Than It Projected
When SoFi announced its SPAC merger, it forecast ambitious long-term goals in an SEC filing:
Loan volume up at a 25% compound annual rate from an estimated $9.6 billion in 2020 to a forecast $42.1 billion in 2025;
Adjusted net revenue up at a 43% compound annual rate from an estimated $621 million in 2020 to a forecast $3.7 billion in 2025; and
Improving adjusted earnings before interest, taxes, depreciation and amortization (EBITDA) — from an estimated negative $66 million in 2020 to a forecast of nearly $1.2 billion in 2025.
SoFi's guidance for the third quarter suggests that it is trading off profitability for growth. SoFi expects adjusted net revenue of $245 million to $255 million — the midpoint of which is 54% more than third quarter 2020 revenue of $162 million.
It also expects EBITDA below analysts' expectations of $11.8 million — in the range of "a $7 million loss to $3 million in earnings," according to MarketWatch.
In short, SoFi is growing faster than its long-term forecast rate and appears to be investing to help fuel that growth.
While its third quarter growth forecast is much slower than its second quarter growth, I would not be surprised if SoFi grows faster than expected in the third quarter.
Analyst Is Modestly Bullish
Morningstar analyst Michael Miller gives the stock a fair value of $20.50. As he sees it, the quarter revealed strengths and opportunities for improvement.
Despite what he deemed disappointment that SoFi's 101% second quarter growth was slower than that of some of its peers, "a deeper look into the quarter reveals some key elements of strength as well as continued progress toward SoFi's long-term goals and in general we view the results positively," he concluded.
If SoFi can sustain its triple-digit top line growth, I think its shares will catch up.