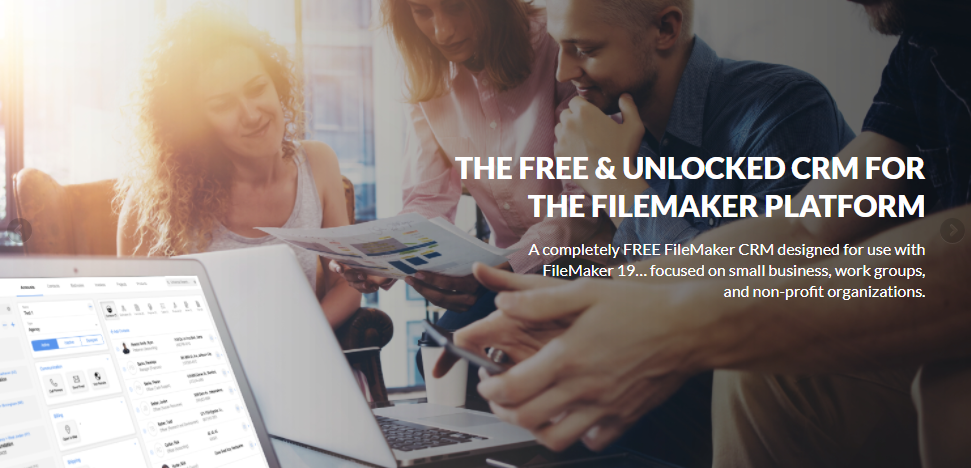 FileMaker CRM
THE FREE & UNLOCKED CRM FOR THE FILEMAKER PLATFORM
FMSP has been customized for use on the FileMaker 19 Platform. FMSP supports iPad, Windows, Mac OS X, and WebDirect. FM Starting Point may be hosted on FileMaker Server or FileMaker Cloud.
Overview
FM Starting Point is a completely FREE FileMaker CRM, designed for use with FileMaker® 19. FMSP is focused on small businesses, work groups, and non-profit organizations.
FileMaker users have been enjoying the benefits of FMSP for over 10 years, with over 700,550 downloads of the solution. FMSP offers an integrated approach to an integral need in the business world — a complete CRM that is ready to be built upon to create the perfect solution for your specific needs. New and experienced FileMaker Pro users will value a FREE tool that makes building a new project substantially easier.
To save time on your next project, simply start off with a fresh copy of FMSP. Then, add additional tables, fields, and scripts to fully customize the database to your exact needs.
FMSP 2022 features support for the new features of FileMaker 19, including Master-Detail View and more.
Additionally, FMSP 2022 is optimized for use with Pro on Mac and Windows, iPads using FileMaker Go, and modern web browsers using WebDirect.
Watch this video to learn about FMSP 2022's new features!
FM Starting Point is a totally unlocked CRM, allowing you to customize it for your organization. However, sometimes the requirements you have for a database exceed your FileMaker Pro skills, and you don't have the days or weeks to learn what you need. That's where the RCC Team can help.
As one of the largest and most experienced FileMaker Pro development groups, RCC can assist customers with customizing FM Starting Point, or any other FileMaker Pro database.
FileMaker One-on-one Coaching
FileMaker coaching is the opportunity to master your FileMaker skills while developing your own Customized Solution. Coaching is done in a LIVE environment, where you and a coach share a screen over the Internet to work on your solution. Projects consist of learning how to start a custom FileMaker solution, customization of RCC's world-renowned FM Starting Point solution, and adding on to your own customized FileMaker solution. Reach out to us today to have an RCC FileMaker Engineer get in touch with you on how to take your solution beyond your current skill set.
Integrating with Barcodes, or other technologies
Because RCC has been able to successfully leverage barcode technology, clients now have the ability to experience faster event registration, easier product labeling, better inventory management, etc.
Additional Reports & Features
The database solutions we deliver are developed as the result of strong customer interaction and years of experience developing workflow management systems.
Web Connectivity
RCC has extensive experience in deploying web solutions with database connectivity. Our experience ranges from simple projects to complex e-commerce based systems.