Claris FileMaker Product Launch with Richard Carlton and Rick Kalman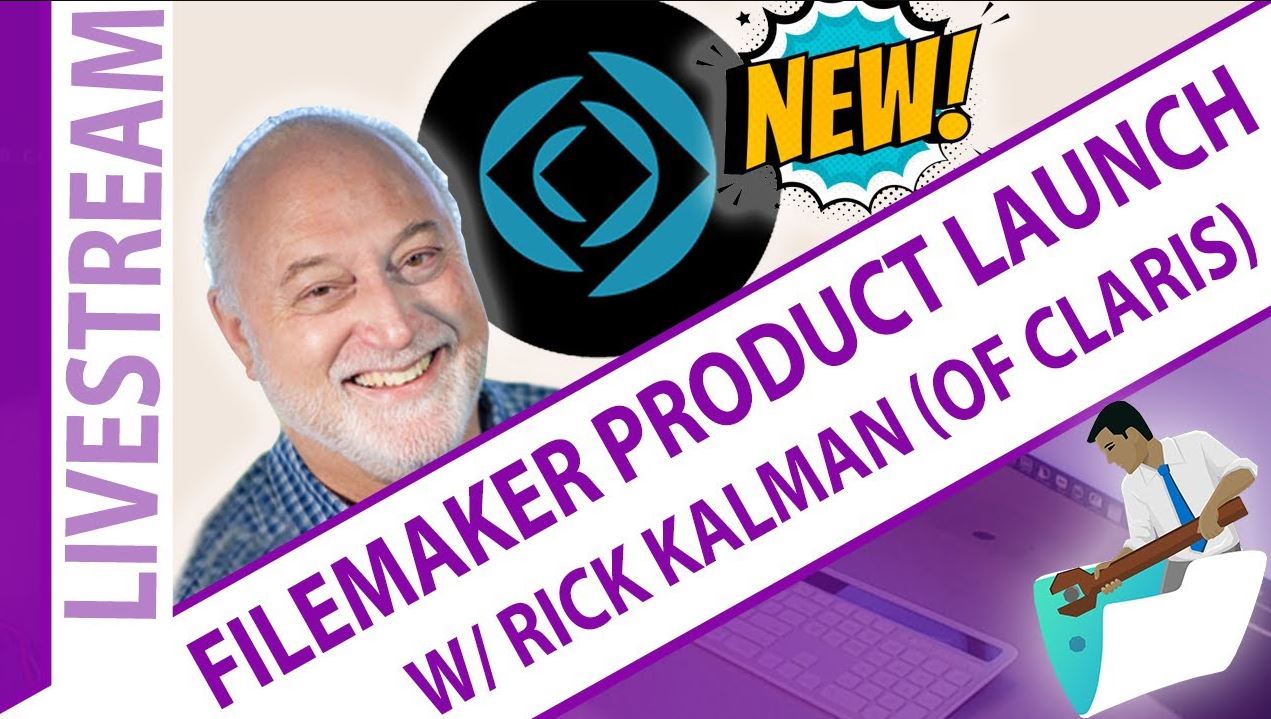 Claris FileMaker Product Launch – with Richard Carlton and Rick Kalman
Rick Kalman joins us today to discuss yesterday's announcements from Claris!
Transcript
You're watching the FileMaker news network, bringing you the latest in critical FileMaker news as well as trivial gossip. Miles Devski with internet weather and our field reporter Jacob Taylor, anchored by our award-winning team of Margaret, Haley, Jeremy, and David. You're, watching FileMaker TV. Today's, Wednesdays, we only get out the explosions on really good days and we have a very exciting day, nothing like slack being in the way or a zoom being in the way of my screen, all the little windows that floats around it. So, I want to welcome everyone here: welcome to fmtrainin.tv, where every day we're training at one o'clock on the FileMaker platform today is a very exciting day because kind of most of you kind of missed this yesterday, because they didn't really call it a product Launch Claris kind of kind of product launched yesterday and then they didn't really demo it so whenever they do things like that. It makes my job real easy, because all I have to do is break out the product and I look like a rock star, but we actually have a great opportunity to ask questions and talk about Maybe things that weren't talked about yesterday. Quite. So, much because we have Rick Kalman who's, the god of FileMaker who's here with us today, Mr. Kalman, how are you great? Are you good. So, we had a kind of a good conversation a little bit ago with the Los Angeles user group meeting, but we wanted to talk about You know what was discussed yesterday and I don't even know where to start with this right.
There was a lot to absorb. Let me see. So, let me bring up this slide right here. This is a slide that came up and we were editing a little bit yesterday. So, what Claris has done and I will put pause in here – Rick if you want to kind of articulate or comment in this a little bit but FileMaker is Developing new technology we've talked about manga before we've talked about the Claris studio before it gives us a lot of capabilities. We don't have a lot of scalability into the future. We would like to have and at the same time, they don't want to break everyone's solution. So, what Claris has effectively done? Is I'm going to use the f word, they've kind of forked, the platform to a degree once again, I'm using non-approved words here in this conversation, but what we have is the current product line over on this side, which is what we call the FileMaker platform. This is what we have had. This is what we know. This is what we use the they basically took their existing FileMaker Pro go server webdirect and they mirrored it over to the other side. So, you see this over here right and what they did is they did a minor file change format change to it. So, instead of FMP2 with on the other side over here, you're going to use essentially what feels like almost identical products, but they use a dot. Claris se file extension. And so, the two sides really don't communicate in real time to each other. So, you can have a FileMaker server.
You can have a Claris server and you can have clients that access those the future is what Claris wants to do is. This is kind of preserving all the capabilities of the things that we have had the FileMaker platform we preserve it. We don't break anything. They talked about their north star. We've had lots of conversations here on the live stream about this, about not stranding people, not breaking their solutions, and. So, they're, leaving the FileMaker platform in place over here and they're continuing to make improvements and modifications to it.at some point in the future. Probably years down the road, I don't know how long that would be. If you ask Claris , if, if Rick says, he doesn't know how long in the future, it is because literally he doesn't know because they only have a get a sense of a real, real good feel what they're doing for like to say the next three months, maybe six months. I remember them talking about peter nelson as the of engineering saying hey. What are you going to be doing in a year, and he had no idea because they're running really short in terms of we're going to build this see what the feedback is and build this to see what the feedback is and they're changing their trajectory. Like a fish swimming upstream, based upon their feedback, they're getting we were talking about this with the Los Angeles user group just a couple minutes ago and the idea is that that you can buy over here the FileMaker platform right.
The current platform we've had we've loved at the current time. The price is unchanged. There is a price change. All products go up about 10 September 23rd thereabouts. So, if you want to renew before then not a bad idea, if you buy this item over here, it's about another 10 or 15 20, whatever it's a little bit of a markup on it. But when you buy this over here, you're going to get the new products over here and what a lot of people didn't understand. Is you also get all these products over here? At the same time, you get the entire thing right. The only line item that you can purchase – that's extra is the cloud servers where Claris runs the server for you and it's and that's an additional charge because they have to actually set up a server for you, virtual server, and. So, the idea is that all the Great new features are coming on this side of the world over here and you want to kind of try to see if you can get yourself to a point where we don't have these dependencies I mean we there's dependencies on the right side over here. That, for me, are kind of show stoppers like I personally need oauth Jacob Taylor. The guy in the zoom over here would cut would come after me with a knife, and I know he has a knife, because I got him a very nice knife. He would come after me with a knife. If I said hey we're going to go back and not use. You know: azure active directory or oauth anymore, right because we after 30 some odd years, we can convert it to that. That's an important thing for us! So, was talking to Rick this morning, and I said you know these are known issues Rick.
What do we want to say about these as being known issues that if we can add the features over here, then everyone could just magically migrate over right? Is that kind of the conversation a little bit, I'm coming at this kind of at 900 Miles an hour? What are your thoughts on that, or do you want me to just kind of leave you alone? No. So, I mean what I would say regarding that is what you see on the right-hand side. So, let me back up in a second. So, think of the Claris platform as a superset of the FileMaker platform. Think of all the things that the FileMaker platform now currently is as just rebranded as Claris right same product, different names, one is dot fmp12, that's the FileMaker side. The new site is dot. Claris same code base same functionality, between the two sides, right the exception. Being that, on the Claris platform side of the house, the old file, the prior to being rebranded FileMaker side has the ability to communicate directly with the Claris studio mongodb back in the you know, the Claris se studio cloud similar to how you've been For years, communicating through external sql data sources, except for we're, not communicating with sql we both we own, both sides of the pipes. So, we're just communicating with ourselves. So the big difference is that the Claris rebranded Claris products communicate directly with Claris studio.
Also, they all require the Claris ID to access anything, but what that means is they also no longer require the license server and licensing certificates. As long as you have a Claris Id, you can access these files and then there is a facility in the Claris Pro side to be able to push tables from Claris over to studio. Imagine you have a layout that was simply used to collect data, or you know some sort of lightweight thing and you would rather have it on the studio side make it public facing maybe serve it out to anonymous users, and you don't want to re-enter that. So, you just push the schema over and then it flips around. So, what was a Claris Pro native table now becomes a shadow table in players Pro and that table actually exists in in Claris studio. When you push a table from file or from Claris pro over declared studio, then it will show up by default. As a spreadsheet sheet view that then from there you can take that and again it's already going to be connected to the Claris Pro side and from there you can turn it into dashboard views or kanban views, or you know detailed views, and all of the Things that our studio has the other thing is nick of the Claris platform is everything that FileMaker currently is with the ability to connect Claris studio with Claris connect thrown in.
So, that's the whole platform. But as rich said, we are evolving very quickly on the new stuff side of the house, especially Claris studio and some of the integration we'll be doing with Claris connect it's moving very quickly and getting it in the hands of folks sooner rather Than later to begin to get feedback. So, that we don't go too far down any path or don't add a bunch of functionality that is not going to be used by a lot of people initially, you know we want to get this out sooner rather than Later so, the reason we're keeping the FileMaker platform around simultaneously is there are use cases or with especially with your deployments that aren't yet served by the nuclear's platform. For instance, we don't yet have Claris cloud that complements FileMaker cloud. So, if you're deploying a FileMaker cloud – and that is a requirement for what you want to continue to do. Then you're going to wait for Claris cloud to be there actively working on that now that should come soon. If you need to work offline, we don't yet have a version of the Claris platform that can function completely offline, but that is a competitive differentiator of ours that we can run in a hybrid world. It could be offline, we can be in cloud or we can be a combination thereof. We don't yet have a concurrent licensing connection license type. So, if you have a license where you have 100 users, but they don't have to be named – and you know as an example, then you may want to continue on the FileMaker platform until we do.
If you have large organizations and you're using active directory, because you don't want to enter each individual individually or you're leveraging oauth, then you might stay there. If you are connecting using odbc or jdbc until that's available on either side, you might stay with the FileMaker platform and then the first thing I mentioned is the file extension. If you can't yet move everything over from that fmp12 to Claris then you might hold out for a while. So as rich was saying, the one the FileMaker platform will continue to exist, we'll continue to sell it. We won't touch that the and that'll be available until all the functionality that's required, for you guys to do what you do with our platform.is there on the clerk's platform side, then there's really no reason to keep two around in the meantime. If you do buy into the Claris platform, ezra said, along with that comes the entire FileMaker platform. The way I would look at this is this think about FileMaker that you've always known for as long as you've known it, some of you, 35 years and more many of you well over a decade and many people over two decades. So, think of that that you've, Always known and built your livelihood on that is exactly the same code base is, on the clarified same thing, right, no difference whatsoever, except for those small things at the bottom of this slide, and so and I would say that it is the Foundation, piece of the Claris  platform – it declares platform is not anywhere close to as capable as it would be if it was missing that key foundational piece which is built on top of FileMaker and. So, it's and as we build out the FileMaker side, everything will be inherited on the clarified. That's the same code base.
Our intention, eventually is there's just one less confusion, less choices to make, but until we have all the power necessary to meet all the requirements that you have for the different ways that you deploy the platform We will have two, if you remember, if you've been around long enough, when we made the last really major leap forward with the platform back in the FileMaker seven days, where it was a fundamentally from the y core, a brand new product For a time several months there we continued to sell FileMaker six. Well, we rolled out FileMaker seven. If you also remember it was many. Many months before there was even FileMaker server 7 available, even after we shipped the clients, yeah, but there were people had the time because they were relearning the product, but eventually we only stole bombaker, 7 and beyond, but for a time you know when customers still Needed to deploy still needed to add seeds, you know without going through a radical chain. So, it's similar to that. Nowhere close to the gravity of the change. You will be utterly familiar with everything that the Claris side pro side of the house does, because it's the same as the following anyways. That was my long monologue,rich, and I want to apologize because the my opening wind up on this, I just came right out of with David knight and wim and a whole bunch of people, and. So, I'm going about 10 000 Miles an hour.
So, real quick a couple people just joined us here I'm gonna pop open. This slide right here. There's a couple slides from here say that were really quite good Let me hit this one right here. So, this is the Claris platform we were talking about this right. It's multiple pieces right, it's the piece that we've had we've loved for years, the FileMaker piece right and then we have this new Claris connect, which is this Iapi integration kind of capability that simplifies that which is great and then and we've demoed. This shoot. We demoed this with Andy Lecates a week and a half ago, a week ago, a week and a half ago, the latest version of studio right. So, Andy's been on the show, it's been great The idea is that Claris wants to. You know we want to modernize and improve the platform, and in order to do that, they don't want to break kind of what we already have in play, which is kind of the whole idea. I'm gonna get rid of myself over here. So, we have the current product over here over here we have all those products plus some additional items plus over here is where we eventually get the free version. That's going to help drive new people, new awareness about this platform. This right here, I think, is such a huge thing.
We've been asking about this for forever right, and The having you know, people go to the Apple store on the Mac or some sort of equivalent store on windows and downloading FileMaker, although it won't be called FileMaker, be Claris Pro for free and then meanwhile, it also comes with a single user license For this studio – and things like that, this is a huge deal huge opportunity over here, and. So, we need to get over here. We need to modernize the platform. It's an important item, however, there's some things that we need on existing installations. For example, I mentioned a little bit ago and I'll mention it again. RCC uses oauth right. So, we need to have that. So, they have to build this arrow over here onto this side before I at RCC can actually really use it at our core operation level. Our core, our core system, level, someone did ask a question just a moment ago: you know what about the FileMaker cloud, the server kind of cloud service that they provide. Well, that's over here and it's an optional item over here, and then over here. It is, will be an optional item as well. So, you can buy the FileMaker platform or you can pay extra money and buy the FileMaker platform with the cloud hosting service.
The same will be over here with the Claris platform. You'll be able to buy that kind of the base platform with everything here and then, if you want Claris to do the hosting for you. Where for your for your FileMaker file, I'm just going to call it that for now, because if I call it Claris file, it'll confuse people, that you'll be able to buy that as well. So, that's an extra optional servicepeople are asking about this question about this issue of Linux, only the idea that here's the issue that's gone on for years and years and years with declares whatever I would have. They have meetings and secret meetings and kitchens, and that's not the other thing at they would have these conversations about. Well, how do we simplify the product line because we're putting a lot of engineering time into our products? For example? We have the free CRM. I have eight versions of that CRM in market; okay, eight, as in one two, three, four: five, six, seven eight. So, if we make a bug fix in one place, I got ta push it eight places, and so, instead of me paying one engineer wants to do it. I have to do it eight times and that's kind of the issue that Claris has with a Mac server and a windows, server, etc.
They're, trying to simplify the platform that way they can iterate and make improvements much faster. So, if this is Linux online, I know some of you say well, I really want a Mac version. I personally use a Mac server at my home, just for educating me and keeping me fresh with it, and I play with it. I'm gonna have to figure out what to do with that myself. It's kind of a a sore spot for me, but the benefit is that Claris won't be tied to investing in that they can iterate this platform faster to make it do great things faster. Does that make sense. So, it's a money-saving thing, but they when, instead of not really saving money, the money gets redirected into propelling. It's like fuel for the rocket to more fuel instead of the fuel off of here. We're going to put the fuel into the main thrusters to push us forward up ahead, because I'm watching the conversation on discord and I haven't had a chance to welcome a bunch of you. Just trust me. I can see all of you here, a bunch of you. A bunch of people are here. Welcome, welcome, welcome, yeah. So, this is very exciting. So, what we did manage to do, Mr. Taylor, you want to give us a quick, walk through we built this morning. We built a new Linux server, I'm gonna hit, stop sharing and we have the new Claris  server and, of course, it's running in Linux and we're doing it on awskind of the normal ec2 kind of technology. Mr. Taylor yep sorry. So, you built this this morning. In fact, I purchased the plot. I purchased this thing full price this morning. So, I could get it and here it is. We have it and. So, what do you want to you know? What do we need to know about this It there's basically like kind of two or three notable things about it,and notable. If you've worked with the Linux, the previous versions of the Linux server, basically yeah one is, it still says, FileMaker on the label, which is humorous, but I assume that'll get picked up at some point. No worries the big one.
Actually, so there's no license certificate anymore. Rick, said that for pro, which oh okay that actually applies to the server too. So, one of the I'll say it's a it's kind of a new requirement. If you again, if you played with the old with the FileMaker Linux server there was an option where you could install it. You know it was kind of a tested thing where you could install the server within with a graphical environment. Not like you wouldn't use the command line to install the software, but it was compatible with like ubuntu desktop or something like that. that's now required and the reason for that is because to like license the server rather than using the license certificate you sign into the Claris id associated with that team That's how. So, I'm interrupt. Can you repeat one more time if you want to kind of exit out of this window briefly here and sure what we're talking about so normally unix is command line. Hell, that's why I've never really been a the biggest fan of it. That thing, that's that there is a desktop interface for it. How do you access it? Yes, This is just because you got Sorry, the zoom things in the way firefox is full screen. This is the desktop environment. So, this is, it kind of looks like windows or kind of Mac or kind of something right.
So, this is the desktop interface for Linux. Is it a specific brand? Is it a uh? This is ubuntu. I set up x-face because xfce desktop environment, because that was the one I could get to work in the given the time constraint. Basically I there's a default one for ubuntu. If you just there's, you can look it up online. There's like install the ubuntu desktop and it's all the stuff that makes the actual desktop, rather than the machine being command line, only essentially that one I couldn't get working as a short version, and. So, I found another guy that do this instead. So, I'm a Mac guy. So, I'm over here, and so, if I had you, if I had you help me build my Linux server and have this desktop here and I got to this machine say it's in my house for some reason sure I came over here and if I double click, this or click on it or something does that actually work? Does it fire it up? It does okay. So, once you get through the Linux installation, everyone, then the admin, this administration here go and log in Jacob, because everyone should probably see this. This is cookie cutter, the same stuff we've had in a lot of ways this product the product released today is a and I'm not picking on Claris, it's kind of a nothing sandwich. It's like nothing to see here right, it's the same stuff we've been playing with. It's the same technology, but now it's it's, there's really this clearest platform side
Once again, I would come over here and I would scribble this out. There's the Claris platform serve, there's a clear server, which is an on-prem server and then there's going to be the FileMaker server, the on-prem server. That normally, is what you see us play with right, but the difference is with the Claris platform. Is it has access to the studio that we played with Andy le case? Remember we were working on the sample file, building the charts that has the kanban board. It's got some really neat stuff in it. Only to get better, which is great, which is really great. The Christian works for me says I'm relieved to not see huge changes yeah. I think that change is just having two platforms and really these two extensions on here. So, for example, Jacob when you put a copy starting point on here, can you walk verbally, tell us what you said a little bit ago. It didn't sure yeah it wouldn't go. I made the obvious mistake. So, you guys can see here we have our the new version of FMSP lite. I just went and downloaded it and grabbed a recent copy I i put like the FMP12 version. I i file copied it to the server and like tried to host it thinking. You know, yeah, that it might do that! I didn't listen to Richard yesterday and because it's like, oh, we have a new file extension that didn't click that, oh it just literally won't do it there's no like! Oh, it shows it to me and says: hey you need to convert this or you know that it doesn't do that. Maybe it will. Maybe it won't. I don't know but it says you know. I tried to force it open and it tells me there are no compatible files and I'm like oh that's my little. You know my little light turning on. So, I fired it up, and this is the same one. That's in the background I fired up the new Claris Pro that I downloaded and installed, and there is on, I think I can do this. Is it create new? That's the home screen, there's a big convert button right on the home screen, and. So, I clicked that and I located the FMSP and hit save and had it. You know check the box to rename as old or whatever and then I put that one up and that's what we're connected to right now. I did nothing else.
Also, it just did it real quick if you quit sharing just briefly here, real quick and I'm going to flip to my screen, we're both kind of between the two of us. We have a pretty good set of demos here, so right here are the two files that we see. So, this was a copy starting point we had if I double click it, it goes into the local copy of FileMaker Pro. I think it's admin, it's one. Two three four or something whatever it is. So, this is the local copy of FileMaker Pro here with the CRM right. So, this is that design with the aesthetic, the nick hunter neomorphism design, aesthetic but if I want to run it in FileMaker. So, if you look over here in my application directory, I have a couple copies of quote: unquote, FileMaker Pro this is Claris Pro over here. These are the first couple ones that we had that were test. This is the one from this morning or yesterday morning. This is Claris Pro. So, this one over here requires an extension of the dot. Claire is here. So, when I took this file over here and I dragged it on here, but basic it says hey you want to convert.
This is like the standard conversion. I have seen this on and off since FileMaker three, some variation of this. Would you like to save an old copy? Save the little copy do a conversion on this, and if you say okay, then it goes through. This process wants me to authenticate into the file, and it goes through this little conversion, really not a lot to convert it's a pretty lightweight conversion, but it helps separate these two sides of the platform. So, for those of you wondering what does FileMaker Pro look like versus what is Claris Pro like. So, this is FileMaker Pro over here on this side. Oh, I actually it opened it up. It opened and Claris. Let me try. Let me open that. Let me see open with give me a like a 19.5 when there we go. Let's try that. So, this is FileMaker Pro conveniently enough. It's essentially identical, essentially identical here is the Claris Pro product essentially identical, except that there is a name here, or the FileMaker Pro or the Claris Pro. I should say, and then oh, it's kind of mad at me, I'm going to quit it real, quick and see. If I can reopen it, I was going to have it show me the about page and it's. So, now it's happy, I say about Claris Pro yeah. I would yes, I was kind of like whoa 40.. So, we jump to the future. So, so Rick, your advice is: don't pay attention to the version numbers too much yeah we're pretty much going to get away from version numbers, but on the off chance that we will go from a FileMaker 19 to a FileMaker 20. We didn't want a Claris Pro 20 and a FileMaker Pro 20 colliding on each other, with some of the design functions and things where you can interrogate, which version of the file you have or a minimum version number. So, we just decided to jump 20 versions, but we'll never really use that it'll be in the about box.
If you need to call support and tell them what version specific version you have other than that, you should need to care about. Please clarify: is this or is this not publicly available. So, let me deal with the easy question. First, real, quick before I jump back to Jacob. So, so, if I go to the Claris website, real quick, let's just cover this real quick. So, this is Claris.com. You go to their website and if you go to pricing and buy it right now, it's not really on here. What you need to do is how I found it is I scrolled down to where I found and I this is all kind of work in progress. Claris  is working very rapidly in ideal world. I think this would be a little smoother, but you go to Claris studio. Really this page should be the Claris platform. The Claris platform bundle clear studio is part of that. But to buy it you scroll down here at the bottom and you say: hey: let's buy this thing right. So, if you scroll, scroll, scroll down here, you can find the buy button and I actually did this. This morning I went in there. I bought this took out the credit card I paid 1125 and bought this this morning. So, so I got. So, as part of that. I can show it to you, but I can log on and here's the thing with this very, very, very important and it's been missed by a lot of people and I'm going to reiterate this in the slide. Real quick, if you if you buy this over here, this is for the time being. This is 900 us dollars for a five seat of this product, the FileMaker classic.
Whatever you want to call it called FileMaker, it's the it's the product that we know and love. Five seats has been 900 bucks for a long time. All the pricing goes up on10 on December 23rd. So, let me state that officially. So, this is 900 it'll go up 10 on the 23rd. This right now is a little bit more money because you get more stuff with it. You get. The Claris studio, which is which is going to get, is good and getting great getting better. You get Claris connect, which is API connectivity, they're rolling it all into one price. This is at the time being per the website that went away or wherever I put it. It's1125, and. So, it's a little bit more money. Here's the thing! If you buy this one right here and you pay the extra money you get all of these products here and you get all of these products as well. So, originally it was kind of under the idea that you buy this one or you buy this one and you got to pick one or the other and the sales people at least my sales person was losing their mind. Trying to understand that. So, you can buy this one. It's kind of the FileMaker is the I want to say the legacy, but it's kind of this classic one that we've had for a long time. This is where all a lot of the development effort, the new technology effort, the scalability effort, all the really great things that are coming in here are part of this. If you pay the extra for this, you get all these versions.
You're actually going to get an installer for Claris Pro you'll also have an installer for FileMaker Pro you'll have an installer for Claris se server, for Linux is what I gave Jacob it's what he just installed. You'll also have FileMaker server, Mac windows and Linux right. So, you get everything if you buy this now, keep in mind this, just available this morning for someone off the street to buy. I can't actually resell it yet under our training, packages and stuff. So, it's still not fully out there everywhere. Yet. So, some of you say hey, I want to get amazing training package bundle with all this Claris has not turned that on. Yet that's a sales function within the sales department at Claris. So, when we, when we're able to do that, we will, but just today this turned on in fact, last night this didn't work. I tried to buy it last night and this web page actually didn't work and we had the one question from Dennis. Well, let's see if we get to Jacob here any word on when they will change the freemium platform for individual users. Let me just hit this one: real, quick. I'll save Rick on this a little bit the premium will be over on this side over here. You will get at some point in the future and Claris se, I don't think, has a date if they have a date.They haven't said anything – I don't think it's this week or next week at some point they will make freemium available on this side. Only okay, which means you'll, be able to go to the Apple store, you'll get Claris Pro you'll, probably give them your information and you'll probably also, I believe, Rick you're going to have access to Claris studio and connect potentially as well. Yes, yes, that's the intent cool. So, you get a complete ability to try this out and get addicted to it. But it's on this side. So, there will never be a free one over here.
One of the reasons which eclairs doesn't talk about this is the piracy is a little out of control on the FileMaker side over here. If, if people get the freemium they have to have a Claris Id, it's authenticated from the Claris server right, and. So, they just can't have people trying to sell copies of FileMaker for seven dollars on eBay, which is still a thing. Apparently, I found out if I misspoke Oregon dean, I'm a correction on this. The prices are going to change last day to buy the prices before the price increases September 23rd. On September 24th of this month, in a couple weeks, the prices all universally go up about 10 percent question from twitch. When I add a field in studio, the new field doesn't show up in Claris Pro. Does this feature not work yet the field? Will we did this with Andy Lacase? You want to go back about a week ago into a demo. I'm not prepared to do that demo right now, but the if you resync the fields they will show up as of yesterday. A container field in studio will not show up yet in Claris Pro I'm assuming that that will get fixed or turned on at some point, because that's an obvious thing: we need to have that right. So, it's gonna it will. It will be coming.
This is a good question for Rick and then we'll jump to Jacob question from Larry. Larry is a retired U.S marine. He says so. The Claris platform will have concurrent connections at some point. Question mark that is critical for our business yeah. I mean we're still working out the licensing and pricing model for this but we understand obviously the use case. So, regardless, if it's a concurrency license or some other way of getting at, why you would use that, because you know that you have a Straight up named user model, if you will you buy 10 users and you put 10 different people in it or you buy a concurrency model where you have the right to say, use up to 10, but it could be 100 people as long as there aren't 10. More 10 people using it at the same time, so and they're different models shift work is a good example where you have three shifts working. You know 24 hours a day, and rather than buying. You know one for each individual. You just buy concurrency model price works out about the same But yes, if that's critical, that would be a reason for you to stay with the FileMaker platform until we have something with parody on the Claris se site: cool real, quick. So, There a webpage right here: Margaret's gonna help disseminate this link here, it's on Claris site. So, while this right here is kind of the lightweight essential items that you need to know about the kind of the differences that maybe you should be thinking about, there's kind of a more actually not this one right here, this one right here differences this one. These are the differences as outlined by Claris support the differences between the two sides. So, one side is over here.
This is the FileMaker side. This is the clarified. You see the file format difference here. I see the questions about file format, we're going to jump to those momentarily. I was looking through this list a little bit ago. I for me, you know odbc. We need to have that support oauth. We need to have that one of the things we're going to have to manually, tweak and fix will be the extensions right because the extension over here this one won't recognize FileMaker extensions right, the Claris product platform won't recognize that. So, on the FileMaker side, we Have to go and fix that. So, it'll be kind of that's one of those things, that'll be a manual. You know when the court was talking about that about an hour and a half ago. It's something to consider as you're planning your migration or your move. Really, there's not that much to migrate. You want to create a test server and test everything out on the new server make sure your essential functionality works before you commit to moving your organization would be my suggestions, what we're going to do right, but this one right here is a known, one that Will probably have to be manually tweaked, it won't auto fix itself but yeah. I mean it's not that big of a list of things that gets broke. It's really the understand that it's really clears Pro is FileMaker Pro really at the end of the day. It absolutely is that okay. So, real quick on the file form on the file conversion. So, So when I took this file over here and I dragged it, it created the new one right here, and so, if I double click it, it goes into the product. It goes into Claris Pro and it's all great. If I close this file – and I and I did this last night or yesterday immediately because it's like, is it really different right, and. So, I go FMP12 and I and it says, warning you really want to use fmp12. So, I have manually changed it back.
So, I'm going to drag this over to wherever it went it's over here, I'm gonna drag it over to one of my copies of FileMaker and it if it. If this worked it, these should be able to open it right, and if I drag it over here, it says warning this is was created by Claris Pro version 40 and it and. So, it's more than just a file extension. But I don't think it's very heavy duty. It doesn't seem like there's a lot of surgery going on underneath the hood, I think they're pretty close, but they are different. So, once you at the current time at the current time, I say this one more time at the current time you can convert one way. Only. So, don't strand yourself make sure you keep a copy of that like, for example, see people are going to go. Hey Richard, are you going to distribute starting point in the Claris extension, I'm like kind of yeah? I guess at some point I have to figure out if we're going to have a side of downloads for FMSP 12 and a side of downloads for Claris . Although you could take the FMSP 12 and drag it over there, but that's an extra step that the user would do, is it unnecessarily complicated for them as a third-party solution provider, we make the free CRM. We do other things like that. That's a consideration! I want to remove the friction points. So, I might have a set of Claris files and a set of FileMaker files, which then means that if I have a bug, I have eight versions of starting point. Now I'm going to have 16 versions of starting point which could get unwieldy, really fast, two questions from Alex spring Carol. Is there an upgrade path to the Claris platform? Are there issues or limitations with converting from okay? Well, I guess now we're covering that right now, right, okay, so Alex is not quite following the diagram here on this real quick.
So, let me just well, those are in here I don't know if I have the original slide here or platform fork, maybe whatnot it's this one. I've been drawing on it's my product. Oh. So, here is the deal I mean Rick. Do you want to try to swing at this and get? Not fully understanding no internet access or offline support. So, yeah. So, the current FileMaker platform. Obviously, you can run it completely behind your own firewall, you don't it. You may need internet connection on windows to install and it needs to. You know grab some bits, but for the most part you can be locked in a high security environment not reaching out to the internet completely. You know no access, right, In that sense, whereas the Claris platform, you need to authenticate with the Claris se ID which needs to ping the Claris services to validate and that's one of the reasons we're able to get rid of the license, certificates and license servers. So, if you cannot run in that environment you're, a highly secured governmental agency that you know has strict requirements, then you're going to stick to the FileMaker side until the claro site can fulfill that requirement yeah. So, I'm going to demo that real quick for people who you know we've been doing demos on Claris  Pro and the Claris studio, but some people are just showing up today. What I'm going to do is I'm going to open up Claris Pro.
So, once again, this is the side without offline access at the current time. What you can do keep in mind is that even on windows, I think you can actually have FileMaker Pro installed. At the same time, you have Claris Pro. You could actually still be running both as a professional developer. You're going to have some customers that'll be on one side or the other you're gonna need to have both apps available and potentially both running at the same time. So, what I'm going to do is I'm going to show you this menu item right here. This is the big difference between FileMaker Pro and clash Pro FileMaker pro. You have to put a license key into this other stuff kind of antiquated. This right here is this Claris id. So, what I'm going to do is, if I had just installed this, it would not say switch, it would say what is your Claris se id? It would throw up a window. In fact, you can't use Claris Pro without having the ID when you first fire up Claris Pro for the first time you're going to get this window right here, it won't say, switch it'll, say put in your Claris id. This is how you're going to authenticate yourself to make sure that you are a licensed user now, eventually, if it's freemium you'll still have this information as a single user it'll be free, you won't have to pay for it but it'll just be. You won't be sharing data with other people, it'll just be you playing with the platform experiencing the great things it does, but you're still going to have to log in over here. So what I'm going to do is I'm going to put in an email that I have for this. It's support1 FM TV and I've been told that I have to change from FM to something else: because I can't be old and out of date, and I'm gonna put my password in here. Put your TV, not your TV yeah. Oh sorry, thank you. Tb, okay. So, to white.
Now it's gonna go to Claris through the internet authenticate and then basically bless this copy. Now this copy is now blessed. This Claris Pro is blessed it's running. If I quit, if I reopen it. So, I've authenticated on this this, as I opened it up, it went out the Claris sa server it connected and said: hey it's Richard Carlton. Is he good? Yes, he's good, he can come in and because I bought a five pack. It also Jacob did the same thing with his server. If we want to back jump back to his server I'll quit, sharing I'll stop sharing. Here you can jump to his to his screen real quick, but that is the same authentication that his server uses, but that license I bought is a five pack license. RCC has a site license for like 30 people right. So, at some point, I'm going to have to take that license and upgrade it and then I'll be able to use the Claris Pro and the clear server and all that stuff at all our corporate operations. When I invoice, customers or Jacob puts his timesheet in or whatever he's doing, right, okay. So, this is a great question. I'm going to tee this one up here comes I'm pitching at Rick. Is the FileMaker platform going to continue to develop new features until both platforms are the same, and that's really two questions? Will they become the same and are you going to build features for both? Yes, because they are the same. So, any features and ones going to be in the other right, the only exception would be things that are specially and specifically related only to those things that come with the Claris platform.
So, for instance, the ability to connect directly into studio data right that won't be a part of FileMaker. It will be, of course, a part of Claris Pro and we won't bring Claris id into the FileMaker side, those kinds of things but The anything that we're doing will be in both sides, any so, for instance, right now, currently we're working on in the next release. On the FileMaker side, the ability to have script transactions we're beginning to do that, work that will be inherited on the Claris Pro side of the house as well. anything that we build on one side that is straight across what we would have done in FileMaker, we'll do in Claris Pro they're the same thing in that way, and then there'll be a difference. I do not believe we'll go too far down a path where there's a radical departure. Besides the very basic connectivity into that there maybe some new script steps in the future that allow you to call directly Claris  flows, the Claris connect flows, for workflows and that sort of thing Those would be some minor differences with the real intent is eventually there's. Just one platform has all the capabilities: the FileMaker and it's just rebranded Claris, and then we go on from there.
We're really not interested in forking it or leaving one behind, because they're the same code base that that would be much more expensive for us to maintain two separate code bases than it would be just to base one to be a subset of the superset of which Is Claris site there's a question right here and I will take this one it's from Ruben. Why do why do they keep Claris? Can why do they keep Claris  connect around? I don't know anyone that uses connect. I think and that way Rick doesn't have to respond to this. I think that connect was launched kind of backwards in a weird sort of way in a not a really developer-centric way. There was some really funkiness with the way it came out. Its pricing is not great that being said, it's being rolled into the overall platform, instead of it being a separate, expensive item, it'll be and it'll be built into the platform at le say just for the moment. The price of the Claris platform bundle. This enhanced bundle is 20 more whatever. It is well for an extra 10 percent. I get Claris connect, I'm willing to pay for that and for an extra 10 I get studio. I'm definitely willing to pay for that, and then it all becomes one integrated kind of system and solution, and that allows us to use it cost effectively. I remember when Claris connect first came out and Andy. The case goes: why aren't you using, I said? Well, I have to write you a check for 15 000 a year to replace because the licensing to replace what we're doing with open API's right – and I said I love – I love Rick. I love you guys, I'm not going to write you an extra check for 15 grand just because you think it's a good idea. So, I i think that they realize that, but it has value. It's important part of the puzzle. It was just kind of created as an almost like, an outlier and launched out there by itself I think now it's a more integrated thought process at Claris, integrated conversation where we have Pro. We have go hey, we have studio, we have Claris connect and Claris connect. You know in my mind, I don't even know they even call it at some point. It might just be part of the platform, it just works. It's the oh learn, FileMaker we're in studio and we just say: hey: let's connect an API and it just does it instead of me thinking about some, you know third party or third product. That's in here doing stuff. I think it if the cost is cost effective. You get the developers behind it, it grows, it gets there's synergy behind it.
I think it goes where it was meant to go originally to really help the platform. I see that being an important thing. Peter Gains. Hey, Peter Gain, how's it going? I have a heavily, I okay. Yes, I Margaret where's that question. I have a heavily changing employee list. I have seasonal workers. How do I register log in my five user pack with Claris ID? If every three months, my employee list changes, that's a good question if yeah, I think that's your, I think that's the concurrent use case that is not yet addressed. Yeah that could be. That could be the concurrent use kit. I would take that offline. It's not. I think, unless Ricky want to speak to that, I think that's, no, I think you're correct. I think you think about it.
There's two fundamental models at least currently the FileMaker probably end up having to be on the clarify. One is named user right and the other one is capacity. I can have up to 10 users. FileMaker, doesn't care, Claris se doesn't care who those 10 people are, or the name user, and I have 10 slots and once I give it a name until I swap it out and give another name, I can it's the names so one doesn't care, you don't Have to plug in a name it just has capacity, and one cares. Those are the two fundamental different models: yeah josh or mond just said: hey. If Claris connect had a byoc build your own connector I'd pay for it yeah, I think that's originally that was supposed to be part of it way back in the day, so I think that, and I was talking about this an hour and a half ago on the la user group. I think Jacob just jump back to me and quit sharing just for a moment. I'm going to jump back to me. I it's kind of an important cause.
We're kind of running up the top of the hour here this issue with these two sides of this This has to happen because we need to propel the platform forward, but we don't want to break everyone this as an as an immediate step immediately like if you just take it. Things are more, it makes things more complicated, but I think this is the we're taking our medicine before we get all the benefit of what the medicine does for us. I think we have to make this step. Rick would probably say it differently, but we have to take these steps. So, it gives Claris the bandwidth it gives them the runway. I would say for them to continue to really build this out and give us new amazing features. If you go back to yesterday's I guess product launch it's kind of a funny name for it. I didn't actually realize with a product launch until Rick. This morning you said: hey it's a product launch. I went holy really. So, There was nothing amazingly like wowing in there, the wow we're taking our medicine right now we have two platforms. Eventually, a lot of people here, including myself, will migrate to the to the Claris platform still essentially FileMaker. This is the medicine we need to take temporarily, but then we're going to get really great new capabilities out of this platform, we're going to have product, announce announcements where we're going to be blown away with the stuff that we can do. That's really great. That's really great David knight asked me. When was the last time you were just totally blown away with something, and I remember the first time I saw Rick demoed Rick Kalman here. Demoed script triggers for me, like 10 years ago or 15 years ago, where it was and I was blown away. I said I have to have that tomorrow. I want to right now take my money and those days are coming for us in the in the community.
I think you've they're doing great work at Claris. This is kind of a necessary pain. Point medicine. You know, take your surfy medicine from your mom, your dad or whoever right but it's we have to do this because they don't want to break what we have, but they have to break some things to move us forward to get premium. They have to lock down the platform. So, people don't steal it right, and. So, that's why freemium is over here with the Claris ID okay, but every legitimate business person or user that I know of has no problem with that. It's only if you're trying to you know, sell FileMaker on eBay for seven dollars a copy we've got like a collection of questions asked, which one do you want to take on. Did you see the Apple ID versus Claris ID question? Good question? I don't know anything about that. Rick, you know anything. address Apple ID versus Claris ID or is it yeah? There are two different, obviously two different things but what's the question, the question is basically: why do we have Claris ID instead of just using Apple ID because Apple ID is something very specific.
About Us
Richard Carlton Consulting has been a premier consulting company on the FileMaker platform for over thirty years. Founded in 1990, RCC has grown to become a dedicated staff of thirty-four people and continues to grow and expand to meet our customer's needs.
From building custom apps, making personalized CRMs, offering one-on-one training, to creating video courses, RCC has a staff it can be proud of. Our Senior Engineers have experience in a wide variety of programming experiences outside of FileMaker, our Coaches guide beginners and intermediates alike into a far better understanding of building their own CRMs, and our support team is always ready to respond to incoming inquiries and requests for assistance quickly.
Whether you are looking for your own CRM, Custom App, or education, RCC's staff stands by our mission to support the customer in improving their organizations and lives in whatever way possible.
Our current staff is scattered across the US, with our headquarters in Northern California.