5 Keys from Patriots preseason win over Washington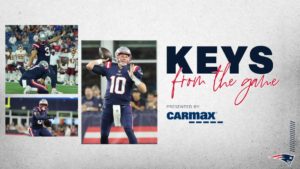 Just like that, the 2021 Patriots season is underway as the team battled through a 22-13 preseason win over the Washington Football Team. After two-plus weeks of training camp action and just a handful of padded practices, the Pats knocked off some rust with their first live action of the new year and with fans back in attendance, it was a night to remember as it felt like a return to football normalcy, both in the stadium and on the field with a promising Patriots squad.
The first preseason game of the year represents a fresh start and while we can't overreact too much to the first time either team actually tackled anyone, we certainly learned some new things about the 2021 Patriots.
Here are the 5 keys to take away from the first preseason game of the new season!
Free agents show up
The Patriots made headlines this offseason with a huge free agency haul and in their first preseason game some of those new faces popped, led by Jonnu Smith on offense and Matthew Judon on defense.
Judon had a particularly impressive series, showing good awareness to drop off his rush and into coverage to force an incompletion and a play later his pressure forced an incompletion, getting a good lick on quarterback Ryan Fitzpatrick. It almost looked like disa
ster on the following play when Judon got rolled up on, forcing a trip to the medical tent but he soon re-emerged and re-entered the game. The free agent from Baltimore looks like he'll be a beast on the edge of the defense.
Between him, Dont'a Hightower and Kyle Van Noy, the linebacker group has a distinctly different look than 2020, while new addition Davon Godchaux looks imposing next to Lawrence Guy.
As for Smith, he only caught one pass and also had a holding penalty that negated a big play, but that one catch was just a glimpse of what Smith has been doing this summer, taking a shallow crosser up the sideline for 16 yards. That's been the most effective play in camp and one that should be run plenty in 2021.
Solid Start for Mac Jones
Cam Newton played just two series, completing four-of-seven passes and leading a field-goal scoring drive. Newton received the full starter treatment with a relaxed night before giving way to Mac Jones, who got a notable ovation as he entered the game and immediately showed what we've seen thus far in camp, quick decisions and accurate throws. The rookie looked comfortable in his first game action, showing the confidence and presence we've seen since he was at Alabama.
Jones just missed Kristian Wilkerson on a deep shot to the end zone that probably should've been caught. But otherwise, Mac was methodical, taking what was there and getting the ball out quickly while avoiding any costly mistakes.
Perhaps most impressive was Jones' command of the no-huddle offense coming out of halftime, completing eight-straight passes before seeing a third-down pass fall incomplete, forcing the offense to settle for a field goal. The offense might've come up short, missing out on completing the drive with a touchdown, but the rookie looked in control.
It wasn't all perfect, as Jones and the offense struggled to move the ball through the rest of the third quarter, with Jones again narrowly missing a deep throw, this time to Gunner Olszewski. Still, he avoided any critical mistakes and that's a big win in his first pro action as he played just a little over two quarters with Brian Hoyer entering the game in the fourth quarter. Jones completed 13-of-19 passes on the night for 87 yards.
Source: https://www.patriots.com/news/5-keys-from-patriots-preseason-win-over-washington